Welcome to The Nutrient Project.
​
We are a team of passionate, well researched and qualified clinical practitioners dedicating our journey to raising awareness on the link between nutrition and disease. It's time to change the way we view health care and we firmly believe that's done by raising awareness on preventative medicine. We plan to revolutionise the current health care crisis one article, consultation and recipe at a time.

Holistic and science based.
​
​There is nothing more contradictory than nutrition and health information. Through the use of proper research, analysis of leading studies, innate intuition and tradition combined, The Nutrient Project weens out the marketing and profit influenced data to bring you what is truly science based and proven to improve overall health. Holistic, simple and science based nutrition, always. That's our promise to you.
---
​The Nutrient Project E-Book: The Knowledge on How To Change Your Life

Join hundreds of people who made the decision to learn about the impact of nutrition and lifestyle measures on the human body

.

Learn how to read nutrition labels, the latest on fibre, ways to improve your gut health, why there's so much more to health than nutrition, why we shouldn't cut out carbohydrates and much more.

CLICK HERE TO DOWNLOAD YOUR COPY TODAY
---
The Nutrient Project Blog: see the latest articles
Powered by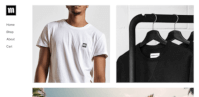 Create your own unique website with customizable templates.